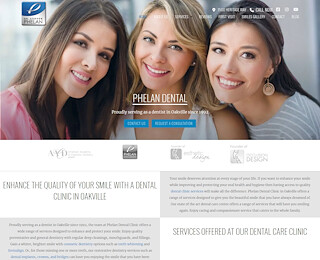 As you search Oakville for family & cosmetic dentistry, keep Dr. Stephen Phelan in mind for your family's dental care. We know how difficult it is to find a dentist who offers a full range of services and treatments for the entire family, including cosmetic dentistry and orthodontics. We look forward to meeting your family's needs for all of the following:
Pediatric Dentistry
Clear Orthodontics
Preventive Treatments
Smile Makeovers
Comfort Technology
General Family Care
Cosmetic Procedures
And More
Can One Dentist Offer Family & Cosmetic Dentistry?
There are a handful of dentists in the Oakville offering both family and cosmetic options without the need to commute to an outside location for treatments, such as root canal therapy, Sleep Apnea treatment, and Bruxism guards. See what other patients say about Dr. Stephen Phelan's practice when you type his name into your preferred directory and read reviews and patient testimonials- we think you'll agree, there is no better place to take your family when searching for quality family & cosmetic dentistry- in one location.
What is Family Cosmetic Dentistry?
A family dentist offers more personal care, so your children will receive one-on-one attention and education that leads to more positive office visits. Teenagers in your home will benefit, as well, with options for clear orthodontics, like Invisalign. Adult and senior patients of Dr. Stephen gain access to many types of cosmetic dentistry services not offered by other dentists in the Oakville area, improving their smiles, as well. The goal of a family cosmetic dentist is a simple one- to help every patient achieve their smile objectives with a broad range of options. We can offer you:
Tooth-colored bonding, fillings, crowns, veneers, & bridgework
Virtually invisible braces
Affordable teeth whitening
Permanent dental implants
Removable modern dentures
Air Abrasion treatment
Soft & hard tissue laser dentistry
Sedation
Chair-side consultations
Digital imaging
Comfortable Dentistry in Oakville
Our two primary goals are to provide access to quality dental care and improve your comfort in the dentist chair- we think you'll agree, there is no need to fear a visit to the dentist any longer. Dr. Stephen Phelan has invested time and resources to ensure patients are not only comfortable during treatment but also have many options for a more beautiful smile. Click the 'Services' link to see a complete list of 'Comforting Technology' choices that make your visits more enjoyable.
Sedation Options
Some patients experience anxiety when it's time to see their dentist, rather than fear of pain. If you fall into this category, you'll be pleased to learn that Dr. Stephen offers sedation to keep you relaxed throughout treatment. Let our team know you'd like more information about sedation when you call to book your next checkup or when you come in for treatment. We'll take ample time to help you select the right type of sedation to meet your needs. Consider our practice the next time you're searching the Web for family cosmetic dentistry in Oakville.
Phelan Dental
+1 905-827-1619
1500 Heritage Way, Oakville, ON L6M 3H4
View Larger Map