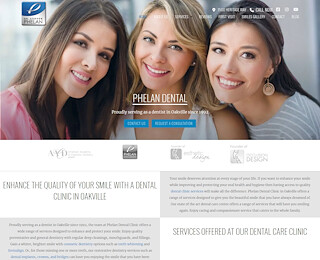 You'll always save money on quality family dentistry when you see Dr. Stephen Phelan and staff. We offer a broad range of dental services designed to keep smiles their brightest and healthiest, with treatments ranging from preventive to restorative to cosmetic. Bring your whole family in to our practice for a checkup and cleaning for more beautiful smiles between office visits. We welcome new patients who come to us from other local practices and other towns and cities from across the country.
Why is Family Dentistry Important?
If you have small children, teens, or seniors living in your home, you'll want to get to know a family dentist in your community who can meet all of their needs. A general dentist cannot offer the full range of services you'll find from visiting Dr. Stephen Phelan. Patients throughout Oakville trust us for all of the following:
Smile Makeovers
Full Mouth Restorations
Invisalign Braces
Professional Whitening
Tooth-Colored Fillings
Dental Implants
Veneers
Crowns & Bridges
Dentures
General Family Care
Innovative Comfort Technology
Why Am I Afraid to See the Dentist?
There are many reasons why patients carry over dental anxiety to their adult years. Fear is an irrational response, but it's not always the patient's fault when they experience it. You may feel anxious or nervous seeing us for family dentistry in Oakville if you relive a past dental trauma, have not kept up with preventive maintenance, or mistakenly believe you'll experience pain in the dentist chair. The good news is we practice painless dentistry at our location- so you have nothing whatsoever to fear.
Conquer anxiety with a free practice tour and get to know Dr. Stephen and his staff during your next visit. We'll show you around and give you ample time to become familiar with our stunning facility.
Affordable Family Dentistry in Oakville
Spend less money when it's time to see your dentist by keeping up with your dentist's recommendations for checkups and cleanings- at least twice per year. By maintaining your family's dental health, you'll end up saving by reducing the need for restorative treatments, like costly root canal treatment, fillings, implants, and dentures. If prevention is worth a pound of cure, think of how much money you'll save at the dentist by following our advice and coming in to see us every six months.
Get to Know Us Better
Read our practice's reviews on Dr. Stephen Phelan's website or elsewhere across the Web. You can take a closer look at results other patients experience through treatment when you click the 'Smiles Gallery' link and see before and after photos. We want you to know that when you're searching for family dentistry in Oakville, we'll be here for you with the services, treatments, and procedures required to keep smiles healthy, restore smiles, and replace missing teeth in a way that is designed to fit your family's budget. You'll learn more about us as you explore the resources found on Dr. Stephen's website.
Family Dentistry Oakville
Phelan Dental
+1 905-827-1619
1500 Heritage Way, Oakville, ON L6M 3H4
View Larger Map