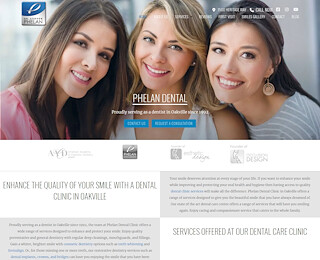 Are you looking for a great Oakville dentist? Phelan Dental has been serving Oakville ON since 1992. Contact us today and request a consultation.
Do We Offer Family Care?
Yes, we do offer care for your entire family. We provide preventive care that is designed to keep your teeth and gums healthy. We have designed our office with a special area that caters to children. It has a flat-screen TV and a PlayStation 3 with child-appropriate games and DVDs. Our salt-water reef aquarium is custom built and has several fascinating fish that you and your children can watch.
We have equipped our treatment rooms with satellite TV allowing your children to watch some of their favorite programs during their visit. Our goal is to keep you and your family comfortable. Children often find the dentist intimidating. We do our best to put them at ease.
We have invested in a dental laser that allows us to treat cavities without the drilling or vibration. The laser also makes it possible to use less anesthetic, which is injected by needles. We take several steps to ensure your child's visit is as pleasant as possible.
 What Can I Expect During My First Visit?
We want you to feel comfortable when you walk through the door for the first time. Our friendly staff at the front desk will be the first to greet you with a smile and warm welcome.
As an Oakville dentist, our goal is to help you maintain or achieve a healthy mouth and the smile of your dreams. We are happy to provide you with general, cosmetic, and restorative dentistry. During your first visit, you will need to fill out your new patient forms. For convenience, it is on our website, and you can fill them out before your visit.
You will meet Dr. Phelan, and he will listen to what your goals are. He will then discuss treatments that will help you achieve the smile and healthy mouth you desire. It is essential that your teeth not only look good, but they are healthy and will last you a lifetime.
Dr. Phelan utilizes computer imaging to show you what options are available to you. Computer imaging gives you a great idea of how your smile will look.
During your visit, we will do a full examination of your oral health. Your teeth will be cleaned and polished. Your hygienist will help you understand how to care for your teeth at home and give you tips to ensure you are doing a thorough job.
Why Choose Phelan Dental?
Our practice is going to help you have a functional and aesthetic smile. Dr. Phelan is always continuing his education. He is well versed in all of the newest and latest techniques. His love of teaching has led him to pass on his knowledge and skill to other dentists across North America. He has published several articles, hosts dental seminars, and even has a YouTube channel dedicated to helping other dentists. We are a local Oakville dentist, so make an appointment today at Phelan Dental
Oakville Dentist
Phelan Dental
+1 905-827-1619
1500 Heritage Way, Oakville, ON L6M 3H4
View Larger Map