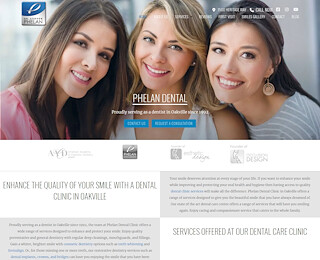 As you search for a dentist in your community who offers smile makeovers, please consider Dr. Stephen Phelan and his staff. You'll find we offer a full range of treatment options to help you achieve your smile goals at a price that fits your budget. Come in to see us for a consultation to determine which procedures will help you look your best in every situation. A brand new smile will ensure your best smiles are available to all those around you.
What is a Smile Makeover?
Dr. Stephen Phelan creates beautiful new smiles using advanced dental procedures and treatments that improve the appearance of teeth and gums. For some patients, a single treatment, such as an implant, is enough to restore their smile, while for others, a combination of treatments works better. See our list of services on Dr. Stephen's website to understand better how we can help you reach your objectives. We offer all of the following:
White Fillings
Dental Veneers
Pro-Grade Whitening
Clear Invisalign
Crowns & Bridgework
Crown Lengthening
Bonding, Inlays, & Onlays
Dental Implants
Modern Dentures
Will a Smile Makeover Improve my Smile?
Patients with all different needs benefit from Smile Makeovers. Consider coming in to see Dr. Stephen Phelan for a smile consultation for any of the following:
Crooked teeth
Gapped teeth
Solutions for missing teeth
Discolored teeth
Teeth with flaws and imperfections, such as chips or cracks
Any time you're unhappy with your smile
How Can I Save Money on a Smile Makeover?
Find a dentist in your community who performs multiple treatments in a single visit, reducing the costs from office visits, numbing, and various services. The easiest way to find out how to save on dental care is to discuss your goals with Dr. Stephen and his staff. We'll offer options that enhance your smile and give you confidence in social situations so that you can share your beautiful smile with all the world. It doesn't have to cost a small fortune to own your dream smile- start your journey with a free practice tour to see why your friends and neighbors trust us with their dental care needs.
Seeing is Believing
Browse our Smiles Gallery for before and after photos of real patients at Dr. Stephen's practice. We think you'll become a believer too, that quality dentistry makes a considerable difference in the lives of our patients- and in your life, as well. Smile makeovers needn't be complex- even a single teeth whitening session constitutes as a cosmetic procedure and significantly improves the appearance of dull or yellowing teeth.
Schedule a Visit
See us the next time you need a checkup and cleaning- we'd love the opportunity to listen to your smile goals and help your entire family experience more positive visits to the dentist. You'll find additional information on treatments, practice amenities, and services offered by our staff as you browse resources found online at Dr. Stephen Phelan Dentistry.
Phelan Dental
+1 905-827-1619
1500 Heritage Way, Oakville, ON L6M 3H4
View Larger Map